Sustainable energy
Sustainable energy use is one of the challenges taken up by Taylor Fladgate. In this context, the group has invested continuously in energy efficiency and the generation of renewable energy in its installations. Currently, the group has installed small scale energy production using photovoltaic panels in three of its properties, Quinta dos Barões (Vila Nova de Gaia), Quinta da Nogueira (S. João da Pesqueira) and Quinta da Roêda (Pinhão).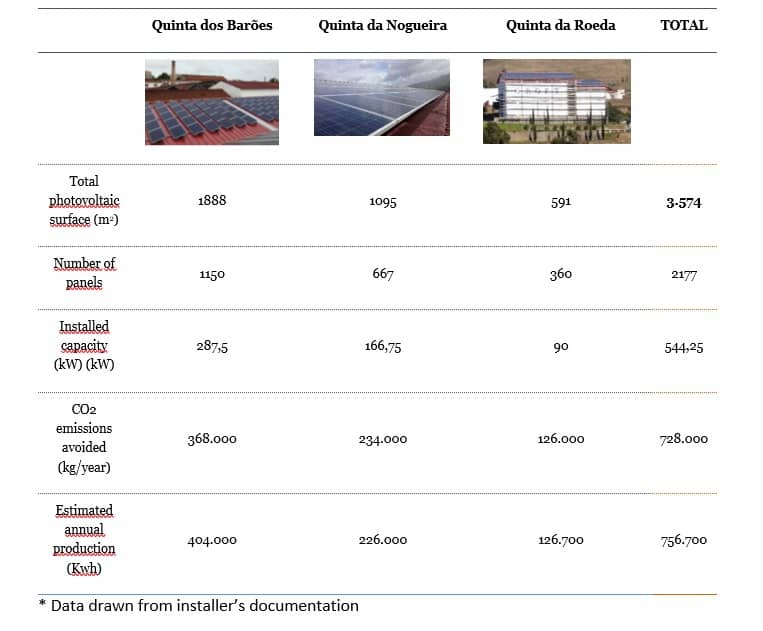 The investment in photovoltaic panels, deployed at the main wine production and storage locations, has not only reduced the consumption of fossil fuels but has generated energy for its own electricity supply needs.
These three renewable energy projects guarantee an estimated annual production of 756,700 KwH and a reduction is CO2 emissions of about 728,000 kg/year. Since 2014, the year in which the panels were installed, the production of photovoltaic solar energy has increased by 37%, evidence of the potential that this kind of investment can have.
Monitoring of consumption
It is essential that energy consumption is monitored so that opportunities for improvement can be identified and corrective action taken. With this in mind, meters have been installed throughout the electricity distribution network, not only to gather data regarding actual energy consumption in each building, warehouse and property, but also to ensure that the externally contracted or internally generated power is in line with the requirements of each facility.