Reduction of water consumption
In 2010, the Vargellas winery was using a disproportionate amount of water compared to the amount of wine being produced. At that time, not only the equipment but also the storage capacity did not meet the requirements at the time, which translated into higher than expected consumption.
There was approximately 150 meters of stainless steel AISI316 piping with 100mm diameter. These were feeding the lagares (granite open treading tanks), as well as both the closed and open fermentation tanks.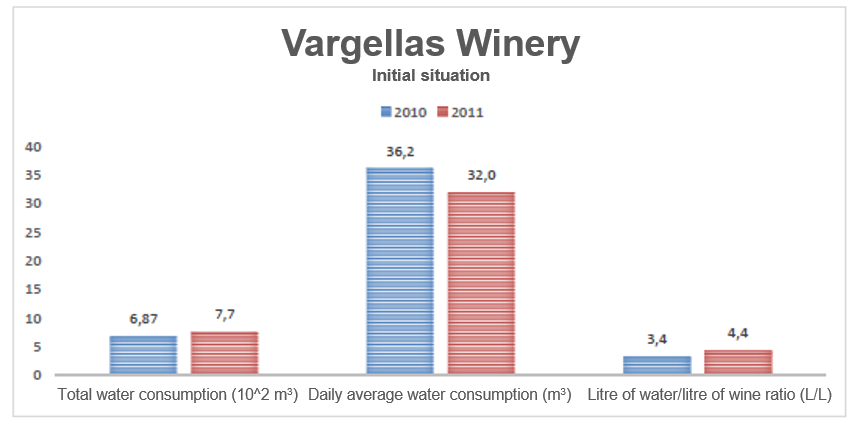 In 2012 and 2013, measures were adopted in an effort to reduce water consumption. The first step was to train both permanent and part-time staff in good practice of water use rationalisation.
It was identified that the filling pipes and those used for washing were areas of high water wastage. To combat this, taps, pressure pistols and squeegees were introduced for cleaning the floor.
These measures resulted in the above table showing average daily reduction (m3/day) and the ratio litre of water to litre of wine produced (L/L) year on year. However, these results were still not considered satisfactory.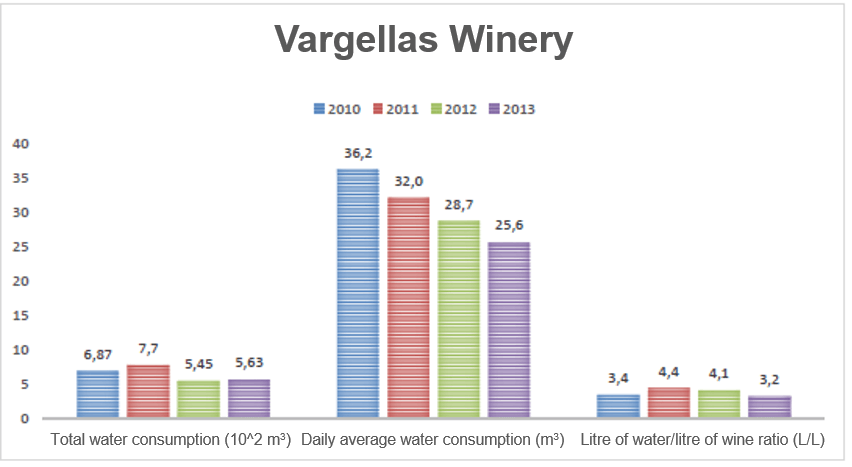 Therefore, in 2014, the grape reception area and all its equipment was remodelled and all the piping adapted to the actual needs of the winery. The total length of piping was reduced by approximately one third of its original length (145m to 50m) and the piping diameter was reduced from 100mm to 76mm. This enabled a total reduction of approximately 91m3 of water per harvest.
In addition to altering the piping, a new machine for washing the grape boxes was purchased. This worked on the principal of recycling water and therefore no longer needed running water. Another measure was to adjust the course of the cooling system in the whole of the winery, as well as the capacity of stainless steel and wooden vessels for the harvest.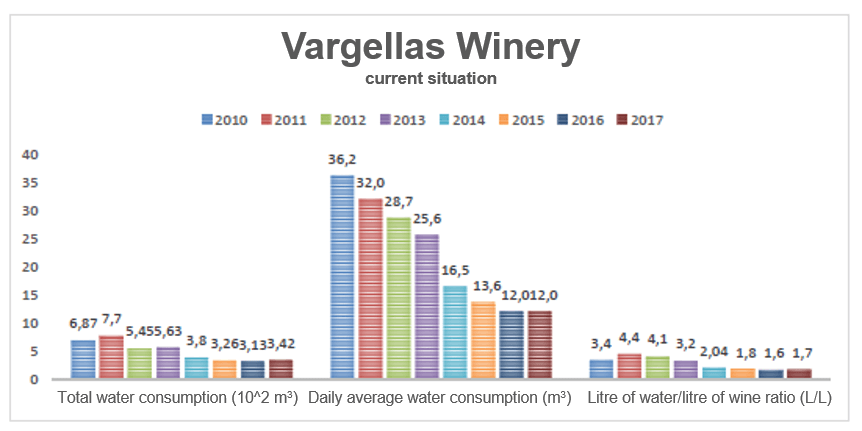 Through its commitment to reducing water usage by implementing a number of measure from 2011 onwards, the winery at Vargellas achieved excellent results:
• Reduction in total water consumption by approximately 50%
• Reduction in average daily water consumption by approximately 66%
• Reduction in the ratio of litre of water used, per litre of wine produced – approximately 63%.
The trialling and good results obtained at the Vargellas Winery enabled the same measures to be implemented in the other wineries (Roêda, Panascal and Nogueira) between 2014 and 2018.